And get to know her own in a setting that feels safe. She's making a short film about it.
Words by Caspar Pisters, all photos by Jonnah Bron
"I never understood why it's so hard for people to openly talk about sexuality", photographer Jonnah Bron (26) says. "To me it's my favorite subject, it's what I talk about most with my friends."
We're having a chat over Zoom after a face to face meeting at my place turned out to not have recorded.
And indeed sexuality is much the subject of our conversation. It has been a focus in Jonnah's carreer as a photographer since at the age of 16 she picked up a camera and started taking naked pictures of her then and very first girlfriend.
Jonnah: "At the time I was doing it because there wasn't much out there for me. The images of female on female sex that I found online felt very fake, with a quite obvious purpose of arousing men. It wasn't anything like my own experience of having sex with a woman. So I decided to provide for it myself. My girlfriend was fine with me documenting her being naked and, later on, us having intimate moments and sex. It ended up being the body of work that got me into the Willem de Kooning Art Academy in Rotterdam to study photography."
My camera allows me to have conversations about sex with perfect strangers"
Sex, gender, intimacy and taboos continue to be her subjects of investigation there. More recently Where we did it, a series of photos of beds-after-Jonnah-had-sex-in-them, found quite an audience when they got picked up by several media. It's an interesting set of photos that feel curiously explicit – you can almost smell the sex. At the same time they are dreamy and not revealing any nudity at all: Jonnah leaves it up to our all dirty minds to contribute a scenario of our own imagination.
Jonnah: "The first picture in that series I made after a one night stand with a girl I knew I wouldn't be seeing anymore. It served as a memory of something beautiful that I wanted to hold on to. I started to do it more often and at some point these photos emerged from my archive because of their poetic quality, which was when I decided to turn it into an actual project."
Another series that got plenty exposure has Jonnah portraying couples who started dating during covid. Jonnah: "My camera allows me to extend the conversations about sex that I have with my friends to perfect strangers, too. It gives me an excuse to come up to people and ask them to undress for me, invite myself into their world. Not out of the blue, obviously. I try and get to know them first. Sometimes we're talking for up to three hours before I start taking photos. While shooting I try to make myself invisible. At this stage I'm completely comfortable being part of an intimate setting like that, which really helps to not interrupt the flow."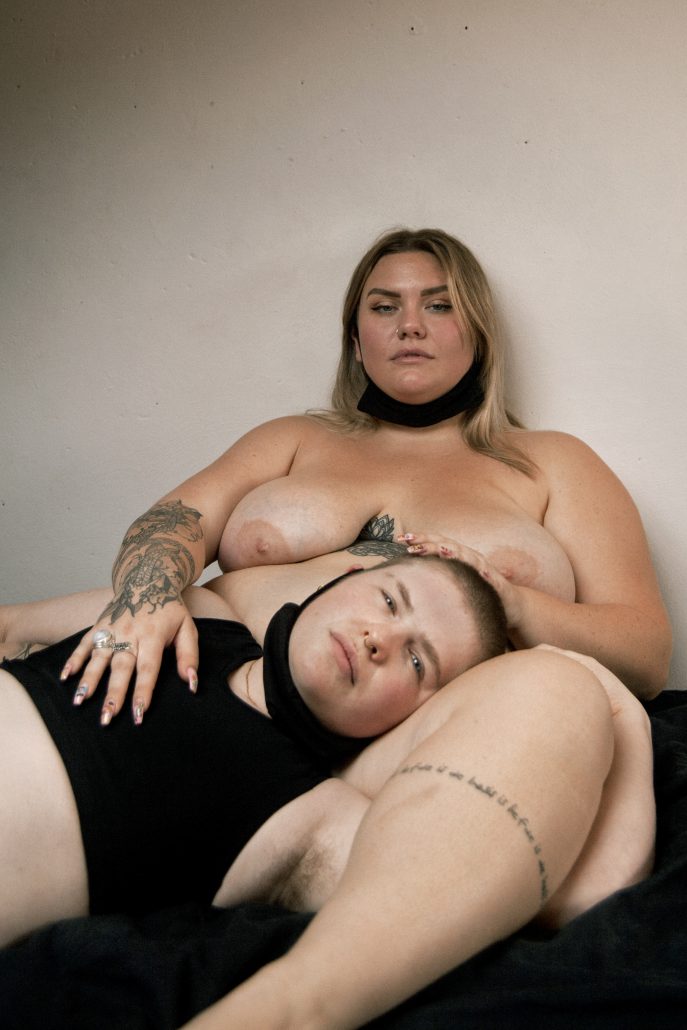 Next up is Jonnah's first short film for which she is currently running a successful crowdfunding campaign. Need is the title of the project, a clear nod to how it all started: ten years on there is still an unmet demand for a different kind of representation in erotica, Jonnah thinks.
Not that the short film will be a porn flick, she adds: "The aim is not to help you have a quick gig with yourself. I would like it to end up in between porna – female friendly porn – and arthouse. The story is about a girl, Aida, who enters a fictive world consisting of several rooms with all kinds of people there, women, queer guys, trans and non-binary people. In them she encounters situations and obstacles that ultimately force her to start asking herself questions about what her own desires are. Which can be really hard, a lot of people don't know. What is it that you want, and are you allowing yourself to go there? I think it's important to ask yourself these questions and I hope this film will have that effect on people."
It's something Jonnah herself had to learn, too. And even as she has gotten better at it over time, opening up to a new partner can still be a sensitive matter.
"I'm the dominant type in my relationships. I like tying someone up, chocking and stuff like that. It's not something I pull out on a first date though. It just generally doesn't work like that with girls. We don't have the dating platforms that gay guys have, where you ask each other all kinds of explicit questions and single your partner out based on specific sexual preferences. If there was such an app, I would probably use it and be more upfront about my desires but I have yet to have that experience with a girl." Laughs: "The ties have to wait for the right moment."
I wish I was be able to take off my shirt on the beach or in the park or everywhere, just like men do"
Creating a safe environment first is of essence, Jonnah states. "In in is where you can really start to explore yourself. If I want someone to knock me unconscious, I want to feel very safe with that person first." Laughs: "It's a bit extreme for my taste, too, yes. But I've had conversations with people who are into that. Imagine the level of trust you need to do that with someone."
Photographing other people naked, has taught her being more comfortable with her own body, Jonnah says.
"I've been going back and forth in my thinking, at some point I wasn't sure if I was comfortable being female. I didn't like my curves, my breasts in particular. I don't consider myself non-binary. If I'm perceived as a woman on days that I don't feel like a woman it is not something that will keep me awake at night, as it does for some people I know. Nor do I want to go through the trouble of having my breasts removed. I'm okay with them now. I just wish I was be able to take off my shirt on the beach or in the park or everywhere, just like men do. To me my chest is just my chest. Unfortunately, being a woman, every day I'm remembered of men's preoccupation with those two bumps that are there. It's tiresome and it shouldn't be like that."
Help make Need happen: with your contribution Jonnah will be able to cover expenses and decently pay the performers – some of them sex workers – in the film. Chip in if you can
WTF. Tell us your suggestion on who to follow.
///////////////////////////////