Pictured above: Anteo – London 2017
I've come to love the skin I'm in, and embrace what makes me different from others"
Words by Caspar Pisters, all photos by Oliver Sarley
Any of you kids still remember Tumblr? It used to be this awesome microblog website where creatives and fun pervy people could share their content alongside each other. Inviting in an exciting cross-pollination between all kinds of visual genres, while offering a never before seen window on human sexuality.
One of the artists it helped produce is UK-born photographer Oliver Sarley (aka Oliraptor, 34 years old), who found his first following exploring himself on the medium, both as an artist as well as a sexual being.
(text continues)
In his work Oliver applies a tender eye to a pants-down approach of his models, regularly stepping in front of the camera himself, too.
It results in non-pretentious photography that is sexy as well as surprisingly sensitive – and in that sense arguably close to what sex generally is in real life: a combination of both.
Starting out as a fine arts artist, Oliver graduated from MICA, the Maryland Institute College of Art – "fancy and expensive" – in Baltimore, USA. It's where he lived between the age of 10 to 25 before moving back to London.
There is a lot of the same formulas out there. I think my audience likes that my work is a little different"
His graduation expo consisted of his very first pictures of naked men, covered in toy dinosaurs, a move away from his drawings, while surrounded by fine art work of others.
(text continues)
When Tumblr pretty much catapulted itself into oblivion at the end of 2018 with its ban on 'adult content', Oliver was one of many creators that migrated to Twitter.
Until people suggested he check out peepshow platform Onlyfans. Oliver runs an account on there now for everyone to see what he has been up to – and with whom. We have a chat about it over a somewhat shaky Zoom connection.
How is showing your work on Onlyfans different from showing your work on Tumblr or Twitter?
"I get to put content up on Onlyfans that I wasn't much able to on Tumblr, videos in particular. For some weird reason it was really hard for me to upload videos on Tumblr. So for me experimenting with Onlyfans has been really refreshing in that way.
I do have this question on my mind: have I moved myself away from the artist world more than I want to?"
It gave me means to make more money but also to share what I want to share. Twitter feels limited compared to Tumblr, which was my safe little bubble. I use Twitter mostly to tell people to come check out my Onlyfans.
It's not easy, and it's a weird twist. As an artist I want to make some money of what I love doing, at the same time I want my work to be out there. Not everything can stay locked behind a subscription."
Is it enough to make a living?
"Barely (laughs). Yeah. I've saved up a bit so that has helped me during this past months for sure. Before I started Onlyfans I did some weird side jobs and commercial shoots. I also did a little sex work for a bit, and that helped. Now my income is mostly through Onlyfans."
(text continues)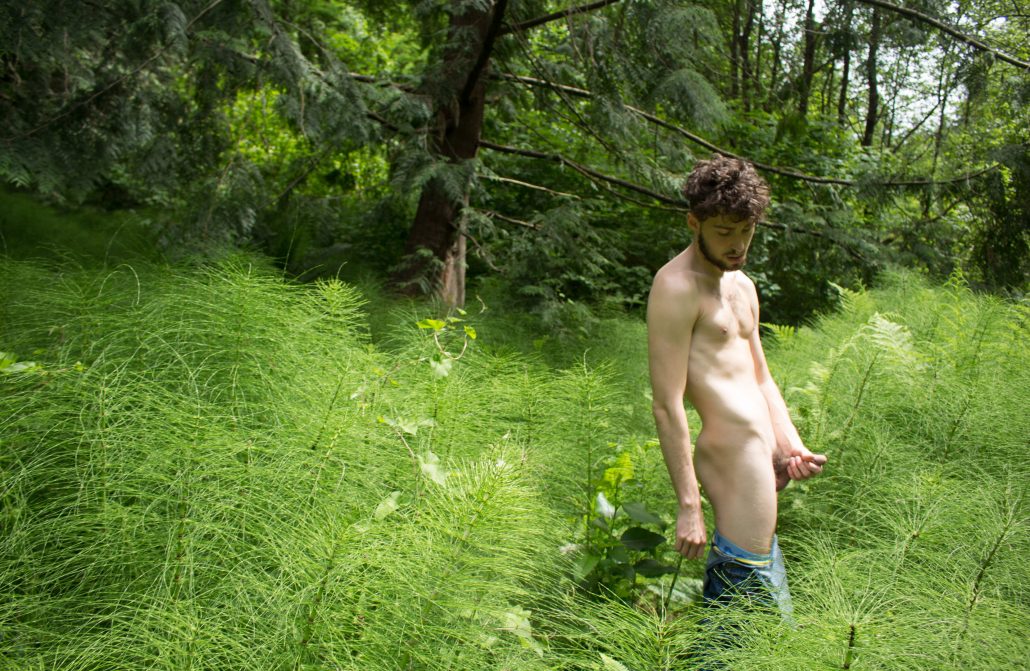 Have you started working differently now that you cater an Onlyfans audience?
"I don't think so. Sometimes I get in a weird mindset where I feel that I have to make something, a bit of a factory conveyer belt producing mode. I try to stay out of that. There is so much content out there, and so many people doing it.
I think my audience likes that my work is a little different. There is a lot of the same formulas. In terms of how people set up their cameras, the rooms are the same, the people they meet are the same, everything they do is the same. It's this sequence of samenes. I try to change up things as much as I can."
You seem to have a preference for the outdoors?
"Indoors is the easier solution, it's always there, ready and available. I like the adventure of outdoors, it makes it more fun. This time of the year maybe less so, though you would be surprised how many people still are up for it. But yeah, it's cold, haha."
I try to find out what a model loves to do. It's not necessarily my intention to have sex anyways"
How do you find your models?
"I started out with an ad on Craig's List when I was still in art school. I was looking for models to draw but then I found this straight guy who, quite unexpectedly, was interested in being photographed, too. He was my first model ever. It evolved with social media, when people started following me and started messaging me. That made things a lot easier. At first my pictures never involved me, that was something that came later."
How did you end up in front of your camera yourself?
"It's silly. When I look back at pictures of me when I was in university I think: you're pretty hot, you probably should have put yourself out there more. But I was too shy back then. Taking the first photos, I was behind the camera only, and even clothed. Some situations got very intimate but I wasn't involved in the visible output.
I was and I still am a voyeur, but I'm at a different level now of how comfortable I am being in front of the camera myself. I don't know what the switch was. I think it happened when I started having relationships with people who were comfortable with me documenting the things we were doing. It led me into being involved more."
(text continues)
Is your shyness gone?
"It's still there. Things get akward often."
In what sense?
"People don't expect me to be the way I am when they meet me, because of my work. My photo's are very explicit, there's a lot happening. When they meet me they find out that I'm very considerate, there to make you feel comfortable and not pushy at all with direction. It's a weird contrast perhaps."
Is it always clear up front whether or not you will be having sex with a model?
"With some people it's very obvious what they want. Sometimes I go into a shoot and I have no idea what this person is thinking and I have to work out where to go.
It's all fine. I try to find out what a person loves to do. It's not necessarily my intention to have sex anyways. Consent is super important for all people involved when you work around sex, because you are being very vulnerable in these situations.
I once approached a guy and he replied: sorry, but I'm not into you. I explained to him that it was fine and that I only wanted to take his picture. Well, during the shoot he wanted me to be more involved and then we ended up having sex anyways. It's fun when that happens unexpectedly I guess, but it's never the goal in itself."
Some people call me a pornographer, some call me an artist or an avantgardist"
What has been the most interesting experience?
"Man, I've had some interesting experiences, some good, and some not so good. Sex in a plant farm in Hawaii with a bonfire and starlight is a stick out memory. There are so many. Sometimes I'm photographing a couple and I capture those moments of intense lust for one another, and that is amazing."
What have you learned about yourself doing this work?
"I've made some awesome friends doing this, strangely. I've got an amazing boyfriend who I met off Tumblr. I've learned to go with flow and treat people with respect. I've come to love the skin I'm in, and to embrace what makes me different from others. Life is quick, wild and full of surprises."
(text continues)
Do you ever feel you have to choose between being an artist or making pornographic work?
"I was actually thinking about that today: have I pigeonholed myself? Have I moved myself away from the artist world more than I want to, ending up in an Onlyfans bubble? Especially now that I've done some projects with guys such as Kayden Grey and Malorie Likes who have established quite a name for themselves in porn.
Some people call me a pornographer, some call me an artist or an avantgardist. I don't know, but it is indeed my headspace right now: what is going to be next? For now I'm having fun exploring this medium, waiting for things to get better and hopefully soon move around and meet a lot of new people."
Follow Oliraptor on Instagram, Twitter, and Onlyfans
WTF. Tell us your suggestion on who to follow.
///////////////////////////////