You don't want to be dominated by some fluffy bunny, you want someone rough at the other end of that rope."
Words by Caspar Pisters, photos by Fabio Motta
Oh Amsterdam gays, you kinky bastards. When Brazilian artist/photographer Fabio Motta (41) posted an open call for fetish models to photograph while he was locked down in the capital of the Netherlands, his inbox filled up in no time.
Even if bondage is a prominent theme in his work, back in Brazil Fabio never engaged much in its expansive fetish scene. He dipped in first while making his recently published Dutch Zine.
Fabio: "It's new territory for me but I had a lot of fun exploring this world and getting a deeper understanding."
This interview takes place last year March, on a spacious houseboat docked at the Amstel river. It's a bright sunny day, right in the peculiarly quiet centre of Amsterdam. Fabio and Estella, his friend of over twenty years, are packing. A two months trip that was supposed to be ten days only finally comes to an end.
Fabio had arrived for the Roze Filmdagen (the Dutch LGBTI+ film festival) where a short documentary about his work as a bondage artist/photographer should have premiered. The festival didn't happen. Instead Fabio – when the first panicky weeks were over – took out his camera and rope, and tried to make the most of his extended stay.
Estella (57, she has a delightful Edna-from-The-Incredibles vibe about her) sits along with our conversation to translate. Quite the talkative person she may have mixed in some opinions and stories of her own here and there. But no worries about that: the article as a whole was approved by Fabio before publishing.
How do you look back at the experience of photographing this zine?
"I'm super happy about it. As an artist sometimes it can feel like you're stuck in doing the same thing over and over. This project felt like taking the next step. And I loved getting in touch with the Dutch fetish scene. I made a new friend, who is a dominatrix. I really got into understanding her world better. Not to the extend that I see myself participate in it, but it was nice to go below the surface."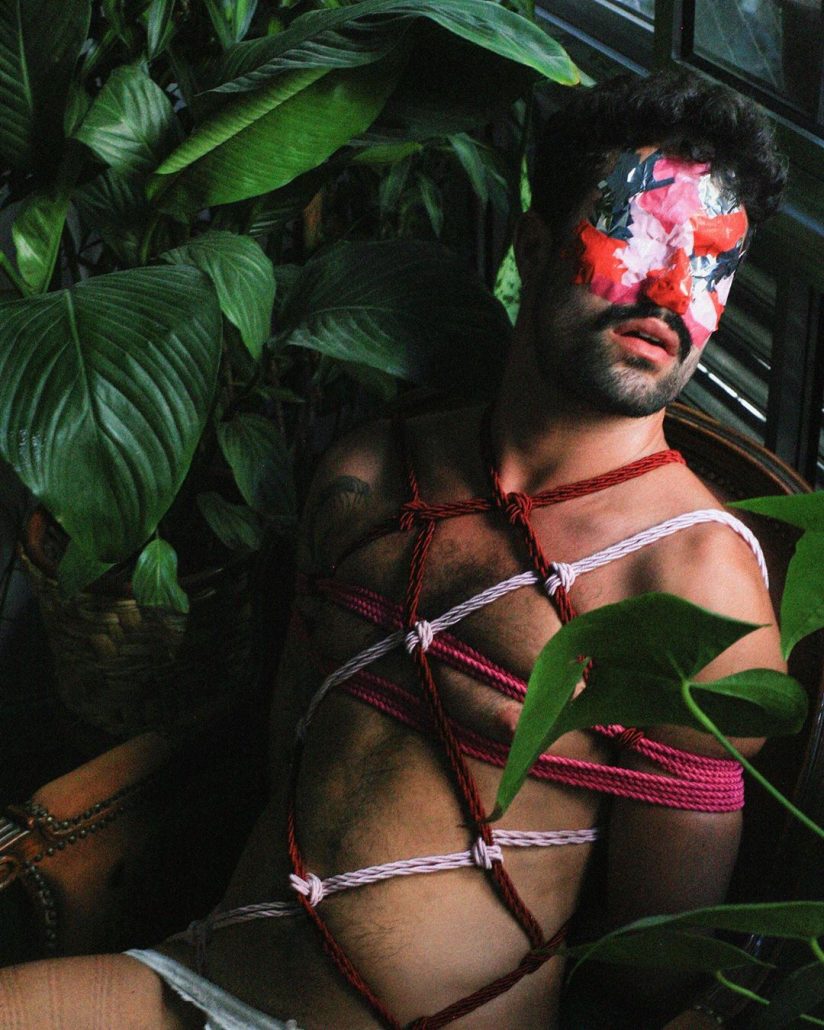 Your previous Instagram had over 150 thousand followers. Do these kind of numbers translate into you being able to sustain yourself?
"Well, it's not easy. I make money from bondage sessions that I do, I sell prints of my photos and I sell my zines."
I can hire you to tie me up?
"Yes. The sessions actually help a lot with my income, it's how it all began. I started posting pictures involving bondage on Instagram in 2014 and people would offer me money to tie them up. I had never considered it before but I figured: why not?"
"People from Europe started following me and invited me over. For my first ever trip to Europe I had a bunch of bondage sessions booked and paid – enough to cover all my expenses. I created my first zine and sold six hundred copies. I realized I could make a living like this."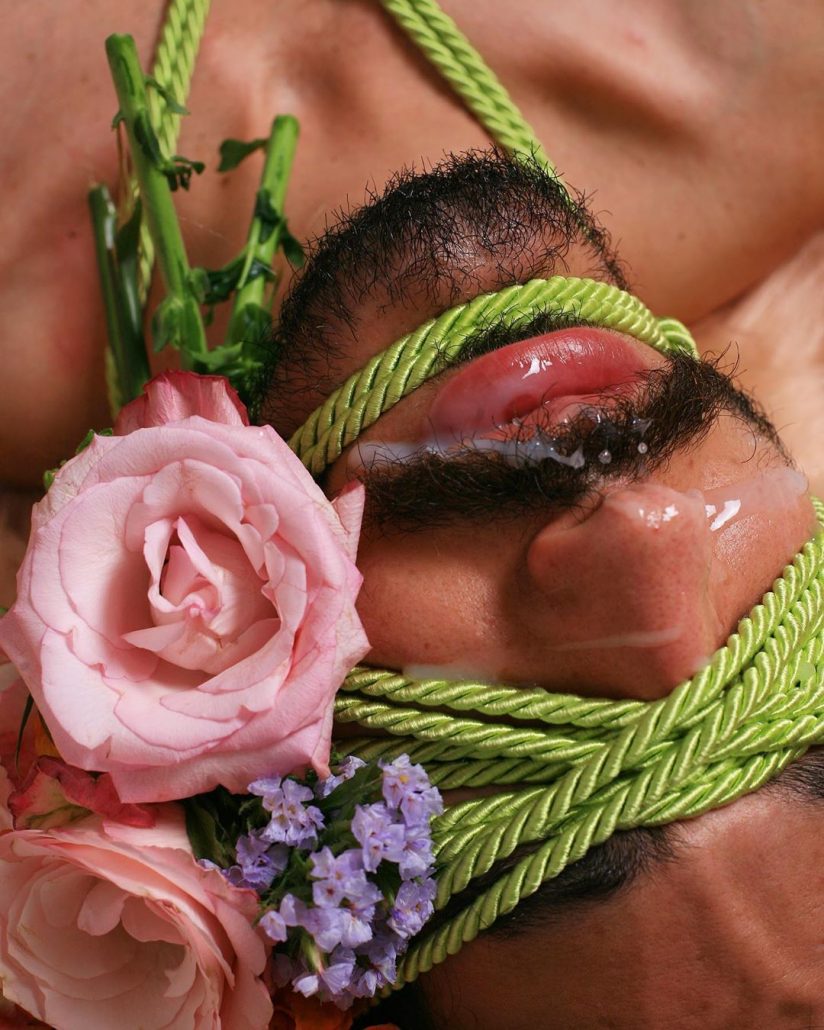 Do you consider the bondage sessions sex work?
"It might be an erotic thing for some clients but, no, fucking is not part of the session. Often I hardly even touch the person. I'm an artist, not a sex worker. Even if sometimes sex can happen when we both feel like it. If a client wants to include that element into the session I'm happy to hire him an escort, I did this a couple of times."
"Often the experience is not erotic at all. You may go into it thinking: oh, I want to get tied up and then be fucked and abused. But bondage is a very intense experience in itself. Especially if you're new to it, it can be very uncomfortable. Painful even. Sex may very well be the last thing on your mind." Laughs: "You just want to get out."
What is the knotting about for you?
"To me it is all about being in control, but it is not erotic to me anymore. I see people naked all the time, a session is another session. I'm not the character people see on Instagram, which is more of a persona."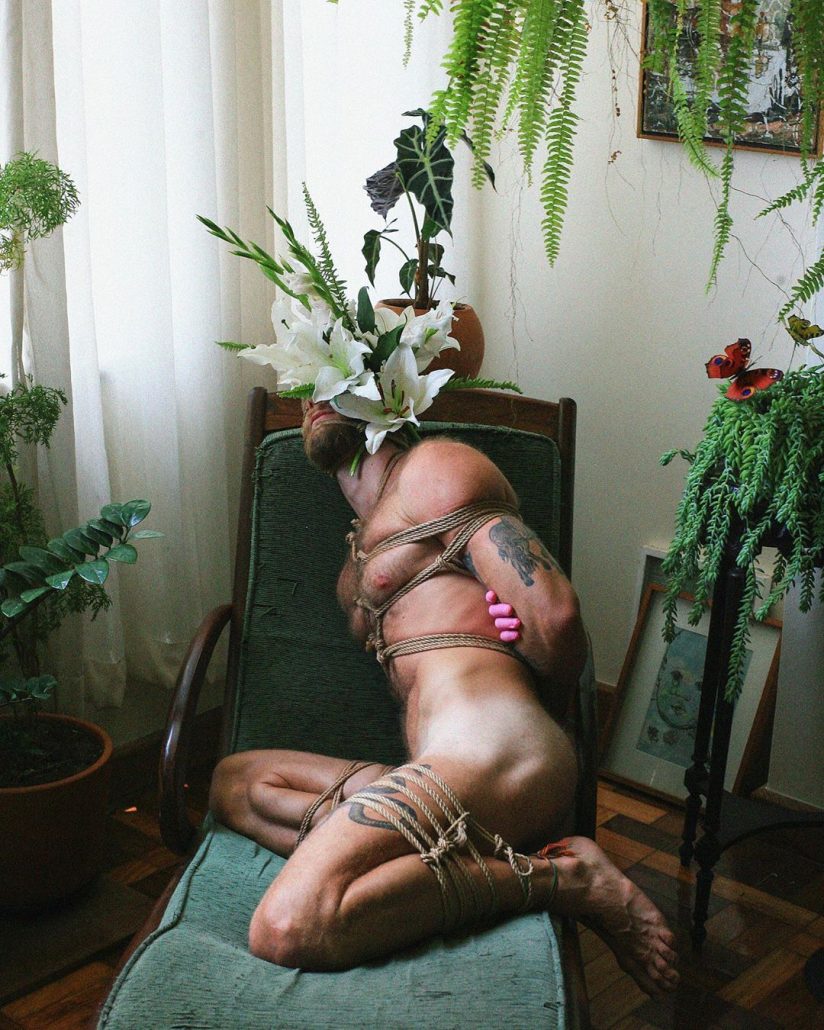 What is the difference between Insta Fabio and real Fabio?
"When people meet me in real life they often say: 'Oooh, you are actually very cute and sweet'. I never smile in my pictures, I look like a bad boy. That kind of just happened. Pretty early on I understood it is how people like to see me. Bondage is about domination. You don't want to be dominated by some fluffy bunny, you want someone rough at the other end of that rope."
And you like being in control?
Smiles: "Yes. I like to be in power. Not in a sexual way but as an artist. There is a soft side to me, too. You get to see it in the documentary. I was actually slightly worried to expose that part of me – it may be bad for business."
Have you ever been tied up yourself?
"Yes, finally it happened, last year in Barcelona in a shamanic ritual. It had atmospheric music and no talking, no pictures – very different from what I do myself. I chat to people during a session, perhaps tease them. I cried a lot when the ties came off, it was very emotional."
Why?
"It messes with your emotions. Like when you would jump into the canal right now: the physical sensation would have an impact, it provokes a feeling. The fact that you are tied up messes with your psychology, with your sense of fear and consent. The constraint of the ropes will produce stress in your body, it feels danger and starts making adrenaline and dopamine. It's different for everybody, you cannot generalize the experience. Often afterwards people thank me because it opened them up, revealed sides to them they were not aware of."
Would you do it again?
"Yes, I would. I quite enjoyed the experience, because I started to tie differently after that. I'm more careful now."
Heading back to Sao Paulo tonight, what is waiting for you there?
"Two weeks of quarantine with Estella and an incompetent president that still goes around shaking people's hands while not wearing a mask. The pandemic has yet to reach its peak in Brazil. I'll focus on producing the Dutch Zine."
"I've been invited to come back to Europe to tie up 48 dancers for a ballet in Paris, to be performed in front of the Eiffel Tower. That's a big deal to me. I started out a few years ago with some ropes and pictures on Instagram and now new things are coming. I'm very excited about it. Even if as an artist I can't be sure where I'm headed in my career I'm confident that it will all work out."
Follow Fabio Motta on his new Instagram account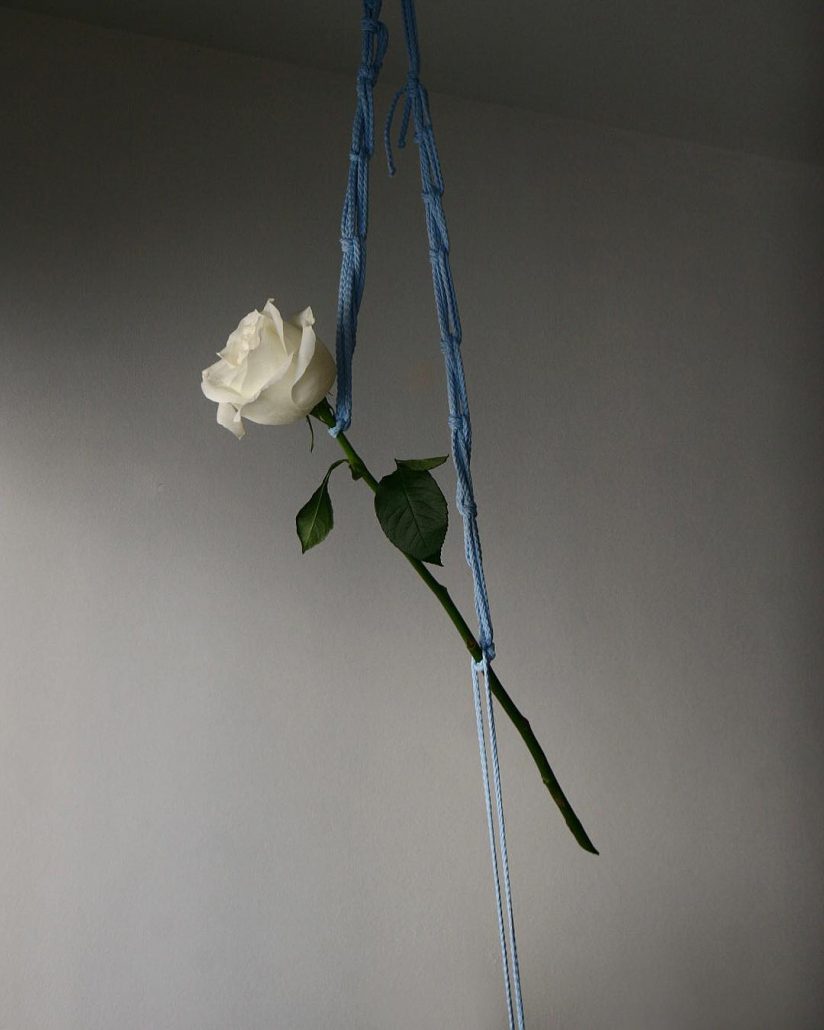 WTF. Tell us your suggestion on who to follow.
///////////////////////////////